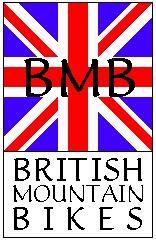 Welcome To British Mountain Bikes
Founded/Managed by Philip Onslow
Tel: 07740 684697
Fax: 0870 1307944
Email: britishmountainbikes@hotmail.com

"I work from Scotland, and my aim is to offer all British mountain bikers high quality products at prices lower than even the vaunted mail-order shops. Britain is too expensive these days and I want to change that."

"I apologise for the scruffy presentation - the site is still under construction. Please bear with me and I will get the full range of great value products posted up."
The Products!
Right, this is what most of you will be interested in! British Mountain Bikes specialises in MTB suspension, mainly for extreme riding such as downhilling although products for other disciplines are available. There is a wide choice of suspension forks, suspension/rigid frames, rear shocks and even discs and hubs - have a look at the product pages for more info!

BMB skips the middlemen and orders direct from the factories, thus giving you great prices on normally expensive products. All BMB products are guaranteed and in many cases are actually built just for you - these are true custom products!

Please feel free to get in touch if you see something you like, as prices are subject to change and there may be waiting lists as with many custom products.
BMB Racing
BMB Racing is (or will be!) the British Mountain Bikes Downhill Team. Phil Onslow has been racing and showcasing BMB products for nearly three years, and he will hopefully be joined by at least one rider in time for the NEFA DH/Dirt Jump competition at Newcastle in June. This event will be the first outing for the BMB Special Mk 2, the new DH Team bike - be there and you may be lucky enough to ride it!
BMB Updates and Events
This website is still under construction - I will list additions and updates to the site as they come up. I will also list new product launches and other events in the world of BMB!

25/01/03 BMB goes online!
28/01/03 Top Gun Suspension (front forks) catalogue completed
07/01/04 DNM DH forks now available!
New Mosso 666 4-bar DH frameset!
Any questions? Send an email!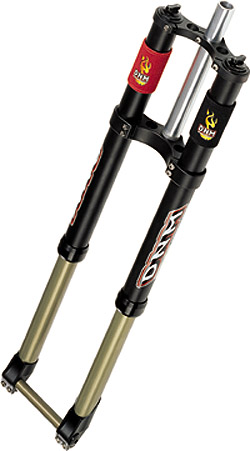 DNM USD-180 - only £295!

DNM front forks are now available from BMB! This is the range-topping USD-180 - stiff, plush and with 180mm of travel, this is perfect for serious DH! This fork scored a great 4.29/5 on MTB Review (www.mtbr.com)!
Ready to order? Click here!